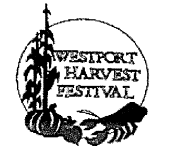 2003 Westport Harvest Festival
Scarecrow Contest


Theme: Farming, Fishing and Agriculture
__ Adult __ Junior __ Child
NAME: __________________________
__
PHONE: _______________
GROUP NAME: _____________________________________________
ADDRESS: _________________________________________________
_________________________________________________
DATE: ___________
Mail to: WHF Scarecrow Contest, PO Box 3998, Westport, MA 02790
There may be only one entry per person. All entries must be delivered to the Westport
High School between 3pm & 6 pm on Friday, October 17th, 2003. Entries must be removed
after 5 pm on Sunday, October 19th, 2003 and no later than noon on Monday, October 20,
2003. Any entry not picked up becomes the property of the Harvest Festival and may
be used for decorating needs.

Entries may not be used in next year's contest.

All entries
should be weatherproof.

The Festival is not responsible for any damage and reserves
the right to refuse and entry considered to be inappropriate.

Winners will be chosen
by a panel of judges and will be announced at the Festival on Saturday.